<!=====================================>
Peter Pan Speedrock
Biography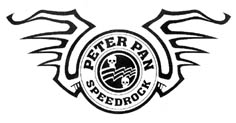 Peter Pan Speedrock started in 1995 with Peter van Elderen on guitar and vocals, Bob Muileboom on bass and Bart Nederhand on drums in their hometown Eindhoven in Holland. Eindhoven is known of the Philips productions and it's a city full of underground rock-bands. The bandname was just Peter Pan then. The idea behind the name was a bit like, they never had to grow up and living in a comicworld, that was the reason for the bandname.
At the end of 1996 they got three songs on a Dutch compilation-CD with other bands out of the same area (
Brabant
). In early 1997 they released their debut
Peter Pan
. But by changes at their recordcompany they got very little support and the end there were just 300 copies made! The first Peter Pan cd is a bit different to what they play later, it's mostly not that heavy and officially the band dissociate theirselfs from the cd as being not good enough.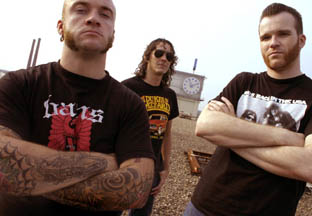 In 1998 they released
Rocketfuel
and this one is more raw, faster and has better compositions. It has underground-hits like
Megadesditas
, which is a very funny song in Spanish language! At this time
Dikke Dennis
becomes part of the group, as a guest-singer, often at their shows for a couple of songs. Dennis is a very fat, tatooed person.
By the way, on this album, Bob was replaced by bassplayer (and back vocalist) Bart Geevers
(at photo on the right)
, who'd put more rockabilly to the sound as he had played for many years in rockabilly/psychobilly bands. Peter
(in the middle)
was before starting Peter Pan, guitarist in the allround rock and a bit newwave sounding band
Life On The Grey
and Bart the drummer
(on the left)
was playing in the technical metalband
Skirl
. So, all these different backgrounds leaded to the Peter Pan sound with the mix of rockabilly, hardrock, metal and punk.
In 1999 they came with the
Home Steel
E.P. with some songs of
Rocketfuel
and some new songs.
In 2000 they released the very raw
Killermachine
, with a lot of rockabilly-kind of solo's. The songs
Big toy
and
Rockcity
are still live-favourites to the audience. They played more and more shows (up to 150 a year!) and got success with their energetic shows. They even did some shows at a rockabilly-fest in Texas, USA. Afterwards, they were renowned as one of the five
must see bands
, out of 250!
However, they changed their name to Peter Pan Speedrock, because in the USA they met bands who found their name
Peter Pan
stupid. Added with
Speedrock
, there could be no misunderstanding about the band's musicstyle anymore.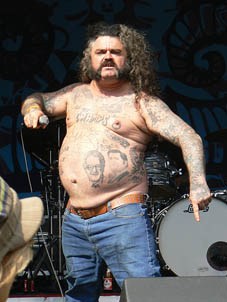 Somewhere in 2001 they released a EP-CD with
Dikke Dennis
(translation in English =
Fat Dennis
)
(at photo right)
with a cover of Motörheads
Ace of spades
, but then translated it literal into Dutch (
Schoppenaas
), which sounded funny.
To make things extra interesting for the fans, the put special (vinyl) singles together like the
Action
7 inch single with a very nice package and artwork. This was the work of the bassplayer (often called as
Bartmann
because the drumplayers name is also Bart) who was before joining the band, a graphic designer, so he creates most of the artwork of cd's and stuff.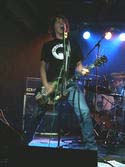 At the end of 2001 they released
Premium quality....serve loud!
. It has a bit cleaner sound, the band playing more tight and the songs are little bit more complex. Classics of this album are:
Resurrection
,
Gotta get some
and
Auf der axe
.
At this point, the band became more and more known in the undergroundscene, but a breakthrough came after playing at the
Noorderslag
festival in Groningen (Holland), January 2002. The band became pretty known from then, played at a lot of festivals, got even with the
Resurrection
single on the radio and their fanbase was expanding a lot. Also, they played a lot through Europe as supportband for Motörhead, Nashville Pussy, Zeke and others and did again shows in the USA and Canada.
In 2002 they released also
Chatbusters Vol.1
with 9 coversongs of (some pretty unknown punkrock) bands which had a big influence at the band.
Another hightlight was the rewarding for Bart, the drummer, as
best Dutch drummer of 2002
! It was a suprise to himself, because his playingstyle is not that technical, but his groovy playing and fills could be the persuading factor.
Some years later, Peter and Bartmann also got a award for being best guitarist or bassist, although I think it's gushing in case of the playing of the bassist, because he is not that special. But the guitarist has its talents!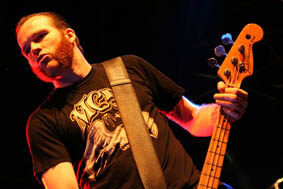 Just for summer 2003 they released
Lucky bastards
. The bandsound got a bit more punkrock besides the AC/DC, Motörhead and rockabilly elements in their music. However the band afterwards explained the album being a bit to clean, I think is a great CD with a lot of fast songs. Classics on it:
Go satan go
and
Always drunk...
. Peter Pan Speedrock got more and more known at this point in Belgium and Germany. And with the success of the band, they now can live from the money they earn with the music, that's explains the albumtitle
Lucky bastards
. In the years before, Peter was also an sculptor, Bartmann a graphic designer and Bart a dustman but in 2003 they could end their regular jobs.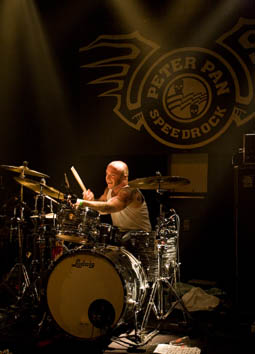 In 2004 they put the
Loud, mean, fast & dirty
complilation CD together, especially for the foreigner fans, who sometimes weren't able to find the older CD's. Of course they released more special singles and things like that, therefor I refer to my website.
Remarkable in 2004 was their performance with a Dutch classical orchestra. As result of winning the
Zilveren Harp
award in early 2004, they were invited to play one song together with this orchestra. As rock and roll they are, they choosed one of their heaviest songs, namely
Auf der axe
......
Also remarkable is the declining of the offer to support Rammstein for 30.000 people in the Geldredome stadion in Arnhem. Their explanation was that "Rammstein sucks!" to their opinion. So, no compromise for Peter Pan Speedrock!
Around spring 2005 they got their 1000-st concert (!) The same time they released the album
Spread eagle
with classics like
Better off dead
and
Cock-teaser
. This was the first record they recorded not-live because they instruments were played in separated. The sound got more in the direction of slower easy-punkrock (except for
Better off dead
and some other songs), with a heavy sound. It's not my favourite (those are
Killermachine
and
Premium quality...
) but the band thinks it's a great step forward.
By the way, some songs of this album stood already (in a slight other version) on the split CD with Zeke, from february 2005.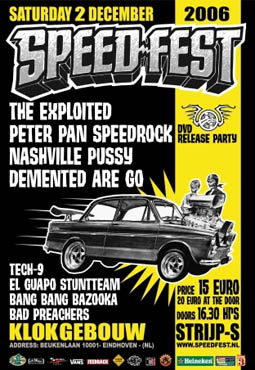 Except from things like a coversong on a tributealbum, 2006 got no albumreleases. But at the end of 2006 they came up with the already long ago announced live-DVD
Speedfreak manifesto
. It's a funny trip back to 1999 and futher on, with besides the live recordings, a lot of funny
on the road
filming.
Also, the members over Peter Pan organizes a speedrockfestival called
Speedfest
. The first time was in November 2006 and since then it happens every year in November or December. Besides theirselfs there played bands like The Exploited, G.B.H., Death Angel, Batmobile, Airbourne, Seatsniffers, Entombed, Nashville Pussy, Reverend Horton Heat, Monster Magnet and many others.
Pursuit until capture
was released fall 2007 and continues the sound of
Spread eagle
with more midtempo songs then before. Classics on it are
Wrong crowd
and
Heatseeker
.
Guitarist Peter did in 2007 and early 2008 a guitarworkshop about amplifiers, distortionpedals, playing solo's and collecting ideas.
In the meantime Peter Pan Speedrock continues up to 150 shows a year and now and then release some obscure singles, like the split vinylsingle with the German band V8Wankers.
Also is Peter van Elderen playing in another band called
Repomen
. In spring 2008 they released
Roadkill
with heavy stonerrock songs. Peter still sings, but plays now bass instead of guitar. The other members are ex-members of
Borehole
. It just a sideproject as being PPS the most important.
On the Speedfest festival of 2008, PPS introduced a splitalbum together with rockabilly band Batmobile, who are an old hand at the game. This funny splitalbum contains 5 songs from both bands in which they cover each other. That has result in PPS songs in a relaxed rockabilly outfit and Batmobile songs that are treat ungainly by Peter Pan Speedrock.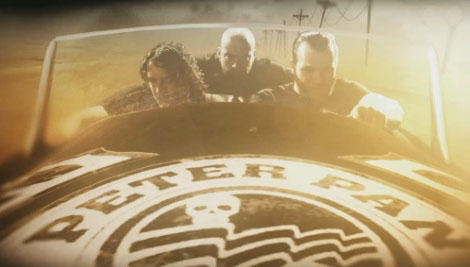 PPS has toured for the first time in Australia during spring 2009.

As a preview for the upcoming album, the band put a kind of Mad Max like-video of the new song Crank up the everything! on internet, on March 2010.
The latest album We want blood! (released after some delay at September 2010) sounds more speedy, inspired and spontanoues in years en got even some new elements in their style.

At Speedfest-6 (December 2011), the band has released their new compilation cd Fiftysomesuperhits. And in October 2013 PPS has played for the first time in Russia.

In May 2014 the latest album Buckle up and shove it has been released, and is recorded in there own, self made studio in Eindhoven. This album contains some more variation as normal and sounds pretty spontanoues. On this album, the band recorded most of their material live as a band again. From its single Get You High, has appeared a nice SF-like video again.
Besides PPS, there's since 2013 an instrumental heavy stoner-rock project with all the members of Peter Pan Speedrock, but completed with extra guitarist Roel Aben, who's also experiments with heavy fuzz noises. This band is called Four Headed Dog and have played a few times on stage.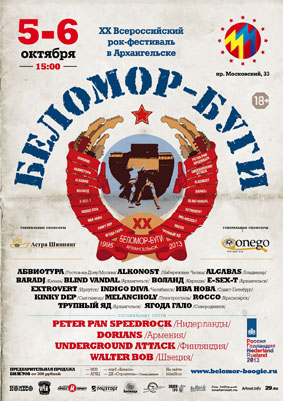 In November 2015, the band alas announced - pretty unexpected - they gave in 2016 a farewell tour. It was sad, but the band stopped after 20 years and about 2000 shows. The reason they gave is " Dreams came true, goals were achieved, Peter Pan Speedrock had their say and left their mark, so the book may close. After twenty years it's time for singer-guitarist Peter van Elderen, bassist Bartmann and drummer Bart Nederhand to embark on new endeavors. "
So far, Peter Pan Speedrock has released 9 studioalbums, 1 coveralbum, a DVD and a lot of singles, ep's and bonussongs for compilations. They have played all over Europe and did concerts in the USA, Canada, Australia, New-Sealand, Russia and recently Japan. They even introduced their own beer "Speedrock Premium Heavy Lager" on the 10th edition of Speedfest.
The last concert of PPS was november 26, 2016, in the Effenaar in Eindhoven. You can watch it
here
.
However, in 2020 they played at a private fan party, which gave them a taste again. Their first performance would be at the Helldorado festival in November 2021, but unfortunately it had to be canceled just in advance due to the corona situation at the time.
Their first performance after that was in April 2022 at the Paaspop festival. Busy as the band members are with other bands (Fire Horse, TankZilla, Speedmobile), so far only a handful of festival appearances in the Netherlands, Belgium and Germany have been done or planned.

<!=====================================>